Terry Kipling
Wildfowl Art and Wood Sculpture
The love of creating with wood has been motivating Terry since he was a child. He turned his love into a teaching career, spanning almost four decades. The majority of that time was spent at a Career Center where his focus was on cabinet making.

During a 1989 field trip to a local woodworking show with his students, he was introduced to a group of local carvers who invited him to join their group. He was intrigued and impressed and has never looked back.

He wanted to share his joy for the art of carving with others, so he established and sponsored and after-school carving club for students and staff. The club stayed active until Terry's retirement. It is his opinion that the art of carving taught students to be patient, creative, innovative and thoughtful. Many, if not most of his students had not had an opportunity to experience the 'Arts' and the carving club provided them with that opportunity.

The DeHaan Family Foundation, Project E, awarded Terry the Excellence in Education Award in 2002 for his mentoring of students. In 1996 he was awarded the Lilly Foundation's Teacher Creativity Fellowship, which allowed him to spend the summer attending a seminar with world-renowned carver Jim Sprankle. He was one of a very few former recipients to be awarded the Fellowship a second time, so in 1994 he was tutored by world champions Gary Eigenberger and Victor Paroyan. Since his first carving seminar in 1996, Terry has taken annual seminars, totalling over 720 hours of instruction with world champion artists like Pat Godon and Keith Mueller.

He has entered and won several art competitions, including the Grand Haven Art Walk 2011, where he was awarded second place for his 'Merganser and Chicks'. In 2006 he retired from teaching and he and his wife Katherine live in Western Michigan.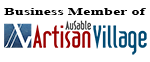 We feature Original Nature Related Art and Limited Edition Giclee Reproductions by some of the finest artists in the Great Lakes region
Copyright © 2020 Main Branch Gallery, LLC