Jackie House
Watercolor, Color Pencil, Pottery
Jackie House is an award winning professional artist who developed her love of art at an early age. Jackie, a Pine RIver Band Metis, enjoys experimental pottery, sculpture, and painting as well as various crafts. She received her B.S. Degree in Art from Wayne State University and continued to do life long learning from the Chicago Institute of Art, Interlochen and numerous workshops around the state. She is a member of the Grandmother Moon Drummers, whose purpose is to keep the Anishinabe Culture alive through drums and songs.
Jackie excels in watercolor, color pencil, pottery and sculpture. Her artwork has been featured in shows and galleries across Michigan including Detroit, Highland, Waterford, Lansing, Mackinaw as well in her home area of Gaylord and Grayling.
Jackie is a retired art teacher who has a studio in the woods where she lives with her musical husband and two cats.
View a 1:15 video of Jackie's artwork - Music by Dan House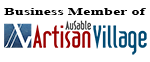 We feature Original Nature Related Art and Limited Edition Giclee Reproductions by some of the finest artists in the Great Lakes region
Copyright © 2020 Main Branch Gallery, LLC