Ken Wright
Digital Photography
Ken has been a photographer since 1956 and made the transition from film to digital in 1996. He is a graduate of the New York Institute of Photography's Digital Photography: The Complete Course. In addition, Ken is a member of "kelbyone", specializing in continued Photoshop education.
His photographs have been displayed in many magazines and newspapers as well as over two dozen websites. Ken's photography subjects and interests range from old barns, bridges and lighthouses, to cityscapes, scenery, flowers and people going about their everyday lives. Tombstone photographs supporting genealogy research is another of his interests. Ken's landscape photographs give one a feeling of relaxed familarity.
Ken is the staff photographer of Johnathan Rand's Author Quest, the Definitive Writer's Camp for Serious Young Writers, the North of 45 Retreat for Writers, and freelance work for several publications.
His photos have been the subject of paintings by several well known artists. His works including the award winning photographs, The Wishing Door, AuSable Fly Hatch and The Blue Chair. These may be viewed below and are featured items in our gallery along with Headwaters Fine Art Cards, which feature Ken's work alongside that of other renowned artists.
Ken also teaches a class in photographic composition in Grayling. See class photo link below and dates on calendar of events. You may register for classes at Main Branch Gallery, Flowers by Josie in Grayling, MI or online at:
www.grayling-area.com/joyoftheimage
All photos © Kenneth D. Wright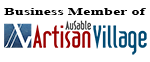 We feature Original Nature Related Art and Limited Edition Giclee Reproductions by some of the finest artists in the Great Lakes region
Copyright © 2020 Main Branch Gallery, LLC