Fred Kinne
Master Fish Carver
I was born and raised right here in Midland, Michigan. My parents taking me fishing from a very young age, it was always just a part of who we were as a family. I married and raised my family here as well, and fishing was something I have shared and enjoyed with my kids and my grandkids.

I began to take an interest in carving while I was still employed with The Dow Chemical, as a pipefitter, around 1985. I started with carving ducks and songbirds, but before long realized that fish were not only my forte, but my passion. Carving these freshwater fish, the blue gills, crappies, perch, etc. helps me to remember the great memories of fishing with my family. Every fish that I carve I try to recreate the beauty of that fish as it's seen from the end of your pole or lying in the net. Some of my favorite pieces are of living fish in motion, capturing their behavior in their natural environment. My goal for each fish carved would be to bring back those memories for the person taking it home, whether it reminds them of family, friends, or their last trip Up North, almost everyone has a favorite fish story. That's my inspiration, being able to share the experience of the outdoors, with like minded folks, through my carvings.

Now that I'm retired, it's pretty much a full time endeavor. If I'm not hunting, fishing or watching Tiger baseball, I can usually be found in my carving shop.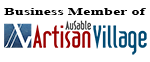 We feature Original Nature Related Art and Limited Edition Giclee Reproductions by some of the finest artists in the Great Lakes region
Copyright © 2020 Main Branch Gallery, LLC