Mike Ford
Master Songbird Woodcarver
Mike Ford is an award winning Master Woodcarver specializing in wildfowl and songbirds. He has won awards in Ward World Championships in Ocean City, Maryland, the North American Wildfowl Championships in Livonia, Michigan, ODCCA Decoy Show in Cleveland, Ohio and numerous local competitions in his home state of Michigan.

One of his more significant awards was a 1st place win in the Advanced Songbird category at the Ward Foundation World Championship Wildfowl Carving Competition and Conference that took place in 2010 in Ocean City, Md. That competition attracted 729 carvers from around the world who submitted 1,465 entries. Ford's entry was a song sparrow perched on a sprig of spruce.

Mike is a full time carver and in 2002 he was one of 5 artist's selected from Michigan to carve a bird for the White House Christmas Tree. In December 2002 he attended a reception at the White House in Washington D.C., hosted by First Lady, Mrs. Laura Bush.

Mike's love of nature with his carving and painting skills produce a lifelike realism that other carvers strive to achieve. He is sought after to judge many carving competitions as well as provide instruction to future carvers.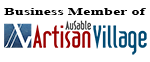 We feature Original Nature Related Art and Limited Edition Giclee Reproductions by some of the finest artists in the Great Lakes region
Copyright © 2020 Main Branch Gallery, LLC