Roger Smith
Extraordinary bronze wildlife sculptures
Nothing flamboyant or outrageous about this artist! Roger Smith, a common name for an uncomplicated, down-to-earth kind of guy. Raised on a small farm in southern Michigan, he always loved the outdoors. Roger has dreamed of being a wildlife artist as long as he can remember. The spark started as a youngster and flickered during his high school years.
Roger smiles as only a man filled with inner peace can and says, "I took a 14 year sabbatical from art of any kind while raising a family, building a business and serving my church and community. Then in 2000 at the urging of my wife, Vicki, I picked up the clay again with an eye toward bronze sculpture. I love the look and feel of sculpted clay and the permanence of bronze. I go to great lengths to collect my reference material in order to capture the life and spirit of my subject. I find real beauty in the organic shapes and curves of a Bison's back or a fawn's ear. Then I strive to share what I learn from His creation with those who view my art."
Once you view a Roger Smith sculpture you know he is a man who knows his subject. Roger's training in taxidermy and taxidermy manikin sculpture is evident in his work. His knowledge of anatomy and his love for his subject adds a magical quality that brings his sculpture to life. Imagine a fawn nestled in the grass waiting for mama's return. All the mechanics are there, the detailed representation of the subject, line, form and proportion. Yet there is something else; a hint of life, a spark that transforms cold bronze into a warm, nearly living creature.
Roger Smith may be an ordinary name but his work is anything but. A Roger Smith sculpture is extraordinary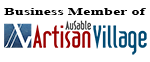 We feature Original Nature Related Art and Limited Edition Giclee Reproductions by some of the finest artists in the Great Lakes region
Copyright © 2020 Main Branch Gallery, LLC