Mark Mehaffey

Member of the American Watercolor Society-Dolphin Fellow and a signature member of the National Watercolor Society

Nationally recognized artist Mark E. Mehaffey is a signature member of the National Watercolor Society, the American Watercolor Society; DF, Transparent Watercolor Society of America; Signature Life member-Master Status, Watercolor West and the Rocky Mountain Watermedia Society, and Louisiana Watercolor Society Signature Life Member.

Mehaffey has won major awards in juried exhibitions across the country including the Beverly Green Memorial Purchase Award from the National Watercolor Society, the Silver Medal of Honor and the Arches Paper Co Award from American Watercolor Society, the M. Grumbacher Gold Medal from Allied Artists of America, and the Skyledge Award from the Midwest Watercolor Society. Mehaffey's work has appeared in many publications; most recently in The Best of Watercolor, Splash 5-The Glory of Color, Splash 10-Passionate Brush Strokes, Splash 11, Places in Watercolor and as a featured artist in a step by step guide and showcase, Creative Watercolor, Rockport publisher.


Mark was awarded BEST IN SHOW for the 2014 Rocky Mountain National WaterMedia Annual Exhibition. This show draws some of the top painters in the country and is a significant award. He will also be the juror of selection and awards for the 2015 show, another major honor. Mark will be one of three Jurors of Awards for this years American Watercolor Society Annual in New York City. This is indeed a high honor as the jurors are selected by a vote of the membership. Mark has also been invited to travel to China for a watercolor Plein Air exchange and Museum show in November, 2014. This invitation includes some of the best watercolor Artists on the planet.



ARTIST STATEMENT


During the time I have been painting (over fifty years) my interest in the act of painting has never waned. However, the content of my work and my technical abilities are constantly evolving. This state of change is something that all artists embrace. It is through challenge that growth occurs. To be timid, safe, complacent or overly satisfied does not push the boundaries of creativity.

As tangents occur in my life, they also occur in my work. I allow myself the freedom to follow my tangents. I find myself dreaming of mists, clouds, rain and water. My brush seems to take on a life of its own as I express the feeling of a summer storm or fishing in the shallows. In my non objective work, I work to evoke strong feelings from a viewer by manipulating the elements of composition. Can line, color, shape and value be juxtaposed to have the same emotional impact as a thunder storm?

Art is a communication - a dialogue between artist and viewer. It is my hope to open and maintain that dialog. And I hope the viewer will be as involved as I am.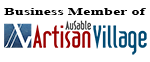 We feature Original Nature Related Art and Limited Edition Giclee Reproductions by some of the finest artists in the Great Lakes region
Copyright © 2020 Main Branch Gallery, LLC