Links Page
The artists of Main Branch Gallery LLC
This page features links to the web pages of our acclaimed artists. We are proud to have them displaying and selling their works in Main Branch Gallery.
Roger A. Blair
I create egg tempera paintings of the American scene, sparked by a love of the landscape and of nature in general. My paintings are a result of many years observing and living among the subjects that I paint. I have been surrounded by art and artists my entire life. As a young boy in Indiana, I would sit with my father at his drawing board and try to emulate his work. He was a technical artist and illustrator and spent a lot of time with me, helping and encouraging me to pursue my drawing. I also had a couple of art teachers along the way who also took an interest in my pursuit. I settled on egg tempera as a life pursuit and am still learning with each new painting I create. My work is included in numerous private collections across the United States. I hope you enjoy my passion.
Kim Diment


Kim Diment is one of America's leading wildlife artists and the co-owner of Main Branch Gallery. A Northern Michigan native, Kim Diment's art brings personality and life to the animals she portrays. Both her art and love for animals started at young age. Her first preteen field sketches came from wanderings along the backwaters of the AuSable River during the spring thaw migrations. She drove her parents crazy with toads, frogs, turtles and orphaned animals she would bring home. Her brother ruined her high school social life by dubbing her "Nature Girl". After High School Kim's formal training involved a double major from Michigan State University in Zoology and in the Fine Arts. During her college years she was competing in the Michigan Duck Stamp Art Competition.She later went on to teach High School art for thirteen years while simultaneously pursuing her own art. In 2003 she started painting full time.

Cindy Evans
Cindy Evans is an artist from Williamston, Michigan, who specializes in watercolor and mixed media paintings. Her work is exhibited in many local and regional galleries and shows and can be found in private and public collections. "My paintings are my reaction to what I see and experience and they tell my story. I try to fit the technique, color choice and design elements to the piece, relating all the components to enhance the mood and message. This means I may treat each piece differently, but gives what I believe a full expression of what it is I am trying to say.
Jackie House
Jackie House is a natural artist who has worked to develop her talent. Her love of art has blossomed into a fulfilling career as an artist and teacher. She received her Bachelor of Science in Art Education from Wayne State University and has continued with lifelong learning at Chicago's Institute of Art, Northern Michigan University and Interlochen.
Debra Reid Jenkins
Standing on one of the deer trails in the dunes at Lake Michigan, between storms the sun will
break through the dark skies, enormous waves crashing on the shore are suddenly illuminated,
seagulls are hunkered down and the wind is blowing so hard the sand stings as it hits my face!

On another day, the water is nearly flat and the sunlight dances on the sandy bottom with the
sound of gentle lapping as the water hits the shore. On the drive home at the end of the day, long
shadows across the farmer's fields echo the stratus clouds that grow more purple and pink as the
evening rolls in.

My challenge is, how do I put this on canvas?
Terry Kipling
The love of creating with wood has been motivating Terry Kipling since he was a child. He turned his love into a career, spanning almost four decades. He spent 35 years teaching school in Fort Wayne, Indiana. The majority of that time was spent teaching at the Career Center. His major focus was cabinet making, but he also taught building trades. Terry's teaching position was quite unique, many days he was not in a 'typical' classroom environment. His classroom may have been in someone's yard, building a ramp for a handicapped neighbor or in someone's home, installing newly constructed cabinets.

During a 1989 field trip to a local woodworking show with his students, Terry was introduced to a group of local carvers. He was intrigued and impressed with their art and joined their carving club. His first project was Pat Godin's Canvasback hen.

Since his first carving seminar in 1996, Terry has taken seminars annually, over 720 hours of instruction, and studied under world champions; Keith Mueller, Pat Godin, Gary Eigenberger and Victor Paroyan.
Marcia Koppa
A desire to make special gifts for family and friends led me to weaving in 2002. The process of designing, planning, dressing the loom and the actual weaving is appealing to me. It's only after the final step that the fabric reveals itself.

My loom is a 46" 8 harness Kessenich - made in Michigan - and I can weave anything from scarves in fine yarns to thick yarn rep weave rugs.
Rod Lawrence
Rod Lawrence graduated with a fine arts degree, magna cum laude, from the University of Michigan in 1973. Since then he has been working full time as a professional artist. His credits include being named the Michigan Ducks Unlimited Artist of the Year in 1979 and the Michigan United Conservation Club's Michigan Wildlife Artist of the Year in 1981. He also has the winning designs for the 1983 and 1990 Michigan Duck Stamps, and the 1981, 1987, and 1992 Michigan Trout Stamps. He had an unprecedented double win for both the 1995 Michigan Duck Stamp and 1995 Michigan Trout Stamp. His win for the 2000 & 2002 Michigan Duck Stamp makes him the only artists to have won nine Michigan stamp designs. He is the only artist to win five Michigan Duck Stamps and one of only two artists to win four Michigan Trout Stamps.
Erwin P. Lewandowski
American artist E. P. Lewandowski, CPSA, specializes in colored pencil paintings of North American subjects and settings. Recognized as a contemporary realist/hyperrealist artist, his signature approach to nature, landscapes, and waterscapes is unique in style, meticulously rendered in detail, and visually appealing in form, content, and composition.

His award-winning waterscape images depicting slow moving streams, currents, quiet river pool, bubbling brooks, cascading waterfalls, and shoreline settings perfectly illustrate his ability to create the illusion of a speck in time, measure of space, and fluid movement with a subject that is in constant change and motion.

Mark Mehaffey
Nationally recognized artist Mark E. Mehaffey is a signature member of the National Watercolor Society, the American Watercolor Society; DF, Transparent Watercolor Society of America; Signature Life member-Master Status, Watercolor West and the Rocky Mountain Watermedia Society, and Louisiana Watercolor Society Signature Life Member.

Mehaffey has won major awards in juried exhibitions across the country including the Beverly Green Memorial Purchase Award from the National Watercolor Society, the Silver Medal of Honor and the Arches Paper Co Award from American Watercolor Society, the M. Grumbacher Gold Medal from Allied Artists of America, and the Skyledge Award from the Midwest Watercolor Society. Mehaffey's work has appeared in many publications; most recently in The Best of Watercolor, Splash 5-The Glory of Color, Splash 10-Passionate Brush Strokes, Splash 11, Places in Watercolor and as a featured artist in a step by step guide and showcase, Creative Watercolor, Rockport publisher.
Carl Schubert
"I became interested in woodworking at a very young age. My grandfather was a furniture maker; he came from Austria at a very young age and learned his skills the old way. His shop was very spartan and the few machines he had were all run from a single source with large pulleys and belts. The furniture he made was elegant and beautifully crafted. At the age of 5 I was impressed with how apple wood could become beautiful chairs.

My goal in my creations is to build the most comfortable, aesthetically pleasing, furniture possible. As I progress on this journey I continue to test my skills and try and push the limit of form and function. I am continuously impressed with the wood artisans I encounter in my life, and am inspired evermore to go beyond the basic." - Carl Schubert
Roger Smith
Once you view a Roger Smith sculpture you know he is a man who knows his subject. Roger's training in taxidermy and taxidermy manikin sculpture is evident in his work. His knowledge of anatomy and his love for his subject adds a magical quality that brings his sculpture to life. Imagine a fawn nestled in the grass waiting for mama's return. All the mechanics are there, the detailed representation of the subject, line, form and proportion. Yet there is something else; a hint of life, a spark that transforms cold bronze into a warm, nearly living creature.
Jan Wachowski
All of Jan's functional pottery is safe for food consumption, ovenproof, microwaveable and dishwasher safe. Jan says, "I make sets of dishes as well as individual pieces, which can be personalized. Nature and wildlife have been main interests throughout my life. I work in various mediums, like fiber, drawing and clay. I began my ceramics studies at CMU, and continued at Flint Institute of Arts. Currently I am interested in clay carving and surface decoration."
Jack Weeks
Jack selects bag shapes and materials that were used during the 17 and 18 hundreds and crafts them with the types of hand tools that were available at that time. These early bags and horns were originally crafted by harness makers, cobblers, and cord winders. Farmers and hunters with the required tools and skills sometimes made their own. Dying, conditioning and metal aging are all done with agents available to early makers.
Ken Wright
Ken's digital photography is the result of over 50 years as an amateur photographer and 10 years as a professional, graduating from the New York Institute of Photography's Digital Photography: The Complete Course. Since 1996 his photographs have been displayed on numerous websites, magazines & newspapers and have been the subject of paintings by several artists. He is also the co-owner of Main Branch Gallery.
Jo Ann Cullip


Artistic Intent

My artistic intent is to use nature as my subject matter while creatively designing my compositions. I may approach color choices with an intuitive and non objective palette. I enjoy experimenting with my artistic style, shifting between the challenge of creating realistic imagery to the freedom to use shapes and patterns within or around a realistic form. I enjoy bending the traditional painting concepts and like to experiment with imagery that may surprise a viewer versus conform to painting 'norms'. My desire is to feel free to experiment with painted images and to satisfy a challenge to represent the essence of any natural image. I hope that all of my paintings leave a viewer with a sense of joy, uplifting one's spirit.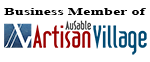 We feature Original Nature Related Art and Limited Edition Giclee Reproductions by some of the finest artists in the Great Lakes region
Copyright © 2020 Main Branch Gallery, LLC