Erwin P. Lewandowski
Contemporary Realist / Hyperrealist Artist
American artist E. P. Lewandowski, CPSA, specializes in colored pencil paintings of North American subjects and settings. Recognized as a contemporary realist/hyperrealist artist, his signature approach to nature, landscapes, and waterscapes is unique in style, meticulously rendered in detail, and visually appealing in form, content, and composition. His award-winning waterscape images depicting slow moving streams, currents, quiet river pool, bubbling brooks, cascading waterfalls, and shoreline settings perfectly illustrate his ability to create the illusion of a speck in time, measure of space, and fluid movement with a subject that is in constant change and motion. A new landscape series entitled, "Southwest/Mountain Landscape Impressions," features studies from slot canyons, mountain regions, and historical ruins from Chaco and several other Indian Cultures. Lewandowski is a member of the prestigious International Guild of Realism [IGOR], Pencil Art Society of Canada [PAS], Art Renewal Center [ARC Salon], Colored Pencil Society of America [a CPSA Signature Member], United Kingdom Coloured Pencil Society [UKCPS], and Colored Pencil Society of America - Detroit Chapter. His artwork has been featured in American Art Collector magazine, Colored Pencil magazine, CP magazine, on Public Television, and in numerous print publications. He is a graduate of the Fine Arts Department at Central Michigan University and a former M.F.A. student at Eastern Michigan University.
Artist Statement
The medium of Drawing satisfies one of my cravings for living. I feel compelled to create [art] and really enjoy the process of discovery and composition. My artwork is a mirror of my time, experience, and personal interests. As an artist, I've learned that to reap the benefits of anything meaningful, one needs to be focused, disciplined, and willing to accept change and risk. My position as a professional artist is influenced by a number of gifted art educators, fellow artists, artistic experiences, and the passing of time.
The artist and his wife, Mary, reside in a home/studio they designed along the shoreline of Lake Huron in Northern Michigan.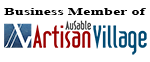 We feature Original Nature Related Art and Limited Edition Giclee Reproductions by some of the finest artists in the Great Lakes region
Copyright © 2017 Main Branch Gallery, LLC