Stephanie Bohnsack
Handmade Glass Bead (lampwork beads) Jewelry with copper/silver elements
After 38 years of being an educator it was time to move on to new adventures. Ask any educator and they will tell you that their job is creative, high energy, and purposeful. So, with lots of extra time on my hands, the creativity, energy and purpose went into bead making and jewelry design. Making glass beads had been one of my hobbies for weekend relaxation. I made jewelry from them for friends and myself.


I graduated from Western Michigan University with a minor in art, and majors in science and education of emotionally disturbed children. Then I went on to acquire three masters' degrees (in education). I know, boring to the art world.
However, I also took silver smithing class at Flint Institute of Arts, as well as other art classes. I have traveled across the USA taking bead making classes (Michael Barley, Brad Pierson, Kristena Logan, Marjory Langstom, Trey Cornet, etc.).


Now you will find me working at my torch on cold blustery days. Isn't Northern Michigan terrific? The inspiration for my beads and jewelry often comes from the beautiful nature that surrounds us.


On-Line Store Catalog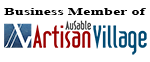 We feature Original Nature Related Art and Limited Edition Giclee Reproductions by some of the finest artists in the Great Lakes region
Copyright © 2017 Main Branch Gallery, LLC